Food Analysis & testing Lab in PUne
Food testing is the analysis of chemicals and nutrients in food in order to determine its suitability for human consumption. Food testing is the testing of food samples to determine whether they meet national standards. 
We at the Vipanan food testing lab in Pune ensure you get accurate & timely results of your food samples.
🧪 Milk and Dairy Product Testing
🧪 Bakery Product Testing
🧪 Fruit and Vegetable Product Testing (JAM, JELLY, PICKLES, SAUCES, ETC)
🧪 Starch and Starchy Product Testing
🧪 Cereals and Pulses Testing
🧪 Food Consumables
🧪 Cooked food Testing
🧪Nutritional Analysis
🧪 Used Edible Oil Analysis
🧪 Animal feeding stuffs Testing
🧪 Hygiene Analysis/ Canteen Hygiene Audit
🧪 Many More
Milk and Dairy Product Testing
Milk and dairy products are sensitive to spillage. Hence for safety and quality checking is important. If a food safety problem is identified in dairy foods, it is important to identify the problem as soon as possible and eradicate.
Raw & Pasteurized - Milk, Curd, Paneer, khoya, Butter, Ghee, Cheese, Ice cream, Sweets etc. can be checked for nutritional values, hygiene, adulterants and shelf life as well. Vipanan can play crucial role to identify the problem in process and what contamination is present.
Overheating or reusing Edible / cooking oil leads to deterioration or chemical change which impacts on quality of oil. Also, reusing the oil for deep frying at high temperature, creates the chemical reactions which affects the quality of fried food and oil both. Analysis of used edible oil can help food industry to decide the exact point of changing the oil.
FRUIT AND VEGETABLE PRODUCTS (JAM, JELLY, PICKLES, SAUCES, ETC)
Fruit and vegetable analysis is considered to be an important quality assessment procedure. At Vipanan, the chemical composition and the physical appearance of the fruit and vegetable products like Jams, Juices, Jellies, Ketchup, Pickles, Concentrates are analyzed for nutritional, Microbiological and chemical analysis. It is also tested for shelf life of the product.
Bakery product testing makes sure that the baked products are safe to consume. Chemical, microbiological & nutritional testing of the product confirms the product is safe for human consumption. Regular or periodic check up is very useful to maintain the right product quality. Bakery products include Dough, Bread, cake, Toast, Khari, Donuts, Biscuits, Cookies, Pastries etc. It can be checked for shelf life as well.
Starch and Starchy Product Testing
Vipanan provide a wide range of testing for starch and starch products like Corn Powders, Corn Products, Araroote Powder, Potato products (Chips,Flakes, ready to eat items,etc.) Sago and sago products, etc.
Cereals and Pulses Testing
Cereal and pulses are made up of nutrients, protein, starch and fat. These nutrients are the primary source of calories. Cereals and pulses testing is carried out to estimate the chemical and microbiological parameters present in these foods. Daal, maida, wheat flour, rice,besan, semolina, ready mix, etc can be analyzed under this category.
All kinds of food consumables are analyzed at Vipanan for nutritional, chemical and microbiological analysis and to check the shelf life of product. Like - Raw & Processed Meat, Dried Meat, Minced Meat, Fried Meat, Chicken and Mutton Curry; Raw & Processed Fish, Frozen Fish, Dried Fish, Fish Soups, Fish Curries, Fried Fish; Atta, Maida, Besan, Idli Batter, Semolina, Ready Mix Powders; Corn Powder, Arra Root, Corn Kernel, Potato wedges, Potato Chips, Carbonated, Non carbonated Beverages.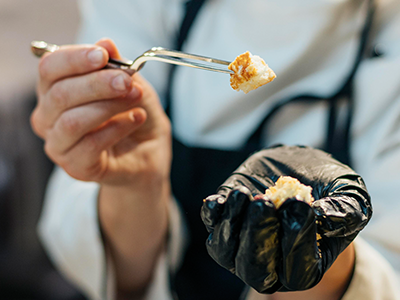 Cooked food testing is one of the Vital service, as it is directly related to human health. It helps to maintain product quality, ensure its safety and determines health benefits or risks of product.
Nutritional analysis of food helps with the determination of nutritional content of food.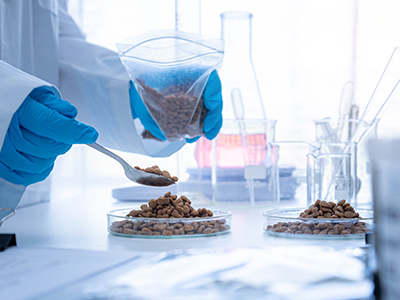 Animal feeding stuffs Testing
Analysis of animal feed helps customer to determine right quality of feed is given. Various types of analysis like nutritional, microbiological and chemical analysis can be done.
HYGIENE ANALYSIS/ Canteen Hygiene Audit
Hygiene analysis is very important for any industry which offers food to their employees or customers. Food could be the most vulnerable source of pathogens causing diseased condition. Along with food analysis, equipment Surface, Hand Swabs, Working Surface Swabs, Food Contact Surface Swabs are equally important to analyze for hygiene purpose. Vipanan provides best analytical services to various industries for food and swab testing. We offer Professional consultancy for process monitoring and hygiene, product designing. Vipanan has a team of highly trained technicians to provide the full range of customer support.
Why Choose Vipanan Lab for Food Testing lab in Pune
Vipanan lab has been a leader in food testing since 2003 (more than 19+ years)
Our team of expert researchers understands the requirement laid down by authorities.
We test food samples precisely, timely & accurately using modern testing methods.

Vipanan is an ISO/IEC 17025:2017 NABL Accreditated and ISO 9001:2015 certified laboratory.